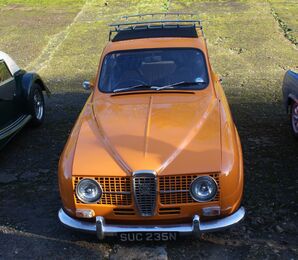 The
Saab 95
was a 7-seater, 2-door station wagon made by Saab. Initially it was based on the
Saab 93
sedan version, but the model's development throughout the years followed closely that of the 96 since the 93 was put off the market in 1960. It was introduced in 1959, but because only 40 were made in 1959, production is often said to have started in 1960.
The first engine was an 841 cc three-cylinder two-stroke engine, but from 1967 onward, it became available with the same four-stroke Ford Taunus V4 engine as used in the Saab 96, the Saab Sonett V4 and Sonett III, and the German Ford Taunus. It had a four-speed manual transmission. There was a small handle on the firewall that, when pushed, put the car into a "freewheeling" mode. This allowed the driver to coast downhill without seizing the two stroke engine, but when power was needed the transmission would engage and the driver could power the car up hill again. As the 95 received the four speed gearbox before the 96 (that still had the old three speed) it was also used for rallying.
A rear-facing folding seat was dropped with the 1976 model, making the car a regular 5-seater. Production ended in 1978. A total of 110,527 were made.
For certain markets (Norway, Denmark) a special export version sedan delivery van was available without a rear seat and rear side windows. Both commercial companies and private persons made conversions of the Saab 95 to a pickup truck.
Media Connections
A noteworthy film appearance of the type is in the 2005 thriller Silence Becomes You. The car is driven by the character played by actor Joe Anderson. Also the main character in The Arrival drives a Saab 95.
A Saab 95 is also featured in a music video by Robbie Williams called 'Tripping.' In it Robbie goes for a drive with a child and a lesbian couple.
Gallery