We're Getting Mutants in the MCU - The Loop
Play Sound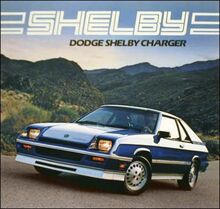 The Shelby Charger was a modified 1980s Dodge Charger.
Carroll Shelby had tuned the Dodge Omni-based Charger for Dodge from 19831⁄2 to 1987, with the resulting car sold as the Dodge Shelby Charger. When the Charger was discontinued, Shelby bought the last 1,000 and replaced the fuel intake and engine management system with the same high-performance one used in the 1986 Shelby GLHS.
It had a blow-through long runner 2-piece intake, modified turbocharger (reclocked with a different compressor cover), and was intercooled. This engine was rated at 175 hp (130 kW) and 175 ft·lbf (237 N·m) of torque from 2400 rpm to 4800 rpm. This was similar to the Turbo II inline-four engine used in various Chrysler vehicles, but the Turbo II used a forged crank, as opposed to a cast one, and a stronger Getrag A555 5-speed manual transmission was used in place of the A525. The GLHS still came equipped with the rod linkage a525 transmission however.
Shelby also changed the struts/shocks with Koni adjustable units, wheels from his own wheel company (Centurion 2's), and high performance Goodyear Eagle GT tires. His modifications prompted the federal government to declare the car a Shelby model. The trademark Dodge appears nowhere on the car, unlike its 5-door L-Body sibling, the GLH Omni, which does have the Dodge nameplate. Shelby Chargers were built at Chrysler Belvidere, Illinois assembly plant, with the GLHS models in 1987 being built at the Whittier, California plant of Carroll Shelby.