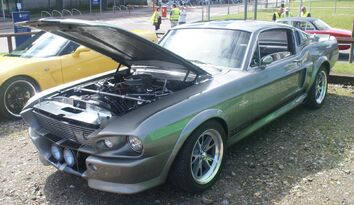 The Shelby Mustang is a high performance variant of the Ford Mustang which was built by Shelby American from 1965 through 1970.
1967-1968
For 1967, the GT 350 carried over the K-Code high performance 289 with a 'COBRA' aluminum hi-rise. The GT 500 was added to the lineup, equipped with the 428 Police Interceptor. These later cars carried over few of the performance modifications of the 1965–66 GT350s, although they did feature more cosmetic changes.
In September 1967, production was moved to the A.O. Smith Company of Ionia, Michigan, under Ford control. Shelby American had substantially less involvement after this time.
For 1968, the Cobra name was applied to both models, and they were now marketed as the Shelby Cobra GT 350 and the Shelby Cobra GT 500. In February 1968, the Cobra GT 500-KR "King of the Road" debuted; under the hood was a 428 cubic-inch Cobra Jet V8 which was rated at 335 horsepower (250 kW).
1969–1970
The GTs lost their Cobra tag for 1969 and once again were marketed simply as Shelby GT 350 and Shelby GT 500. The GT 350 and GT 500 for the 1969 model year received an extensive face lift, the body alone increasing in length by 4 inches (100 mm). Ford was heavily involved with design and style decisions, with Shelby having very little input. The GT 350 was now equipped with a 351 cubic-inch V8. Carroll Shelby terminated his agreement with Ford in the summer of 1969.
No production of 1970 Shelby GT 500 models was actually undertaken, however partially constructed 1969 cars were completed from stock of parts and given 1970 serial numbers. The 1970 models had no mechanical changes from the previous model. A total of 286 were produced.
Even though production of Shelby GTs had ceased, a small numbers of 1971 and 1972 models were produced on the request of Belgian Shelby dealer Claude Dubois. Shelby agreed to build 14 1971/1972 Mustang based models which were marketed as the "Shelby Europa" and sold only in Europe.
Galllery
Community content is available under
CC-BY-SA
unless otherwise noted.