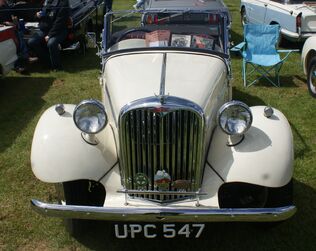 The
Singer SM1500
was a saloon car produced by the Singer Motor Company from 1948 to 1954. It was the first car produced by Singer after World War II being officially announced in 1947 with deliveries starting for export in 1948 and for the home market in 1949.
The car had a pressed-steel body mounted on a separate chassis with independent suspension at the front using coil springs. Only a four-door saloon was made. The brakes were hydraulically operated using a Lockheed system with 9 in (229 mm) drums. The four-speed gearbox had a column change.
The car was almost unique among British volume-produced saloons in featuring an overhead camshaft engine. The engine was based on the one used in the Super 12 but with larger bore and shorter stroke, giving a capacity of 1506 cc. From 1951 the stroke was further reduced to give a capacity of 1497 cc to bring it into the sub 1500 class. From 1952 a 58 bhp (43 kW) twin-carburettor version was available for an extra £28. It was reported that the engine block was so tough that the manufacturers were happy to quote 65,000 miles (105,000 kilometers) as a "normal" interval between rebores.
Inside, the car had a bench front seat with folding armrest and was optionally covered in leather. The metal trim was given a wood-grain finish.
A twin-carb version tested by The Motor magazine in 1952 had a top speed of 76 mph (122 km/h) and could accelerate from 0-60 mph (97 km/h) in 23.5 seconds. A fuel consumption of 22.5 miles per imperial gallon (12.6 L/100 km; 18.7 mpg-US) was recorded. The test car cost £1168 including taxes.
17,382 SM1500 cars were made.
Singer Hunter
In September 1954 the car was re-branded as the Singer Hunter with a traditional radiator grille and fibreglass bonnet lid until 1955. The Hunter was well equipped with twin horns and screenwash as standard. A horse-head mascot was fitted over the radiator. 4772 Hunters were made.
A more basic model, the Hunter S, was released in 1956.
A more powerful Hunter 75 had a twin overhead camshaft engine (using an HRG designed cylinder head) but very few, possibly 20, were made before the range was cancelled after the Rootes Group took over Singer.
The Hunter has an odd claim to fame in the film Fire Maidens from Outer Space by Cy Roth, sometimes called the worst film ever made. The car appears in several rather pointless tracking shots at the beginning of the film. As the film was produced just as the Singer company was heading for bankruptcy and take over in 1956, it can be assumed this was an early form of product placement.
The Hunter name was revived by Rootes in 1966 for their Rootes Arrow range, in the form of the Hillman Hunter.
Gallery