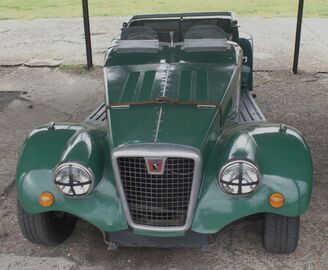 The
Spartan Roadster
is a kit car that was produced by Spartan Cars between 1973 and 1995.
The car was an open, 2+2 seater, traditionally styled kit car based at first on the chassis and mechanical components of the Triumph Herald. An aluminium panelled body and glass fibre wings completed the car.
As the Triumphs became rarer, and collectable in themselves, a complete new chassis was designed in 1980 to take components from the Ford Cortina Mk III-V.
Gallery