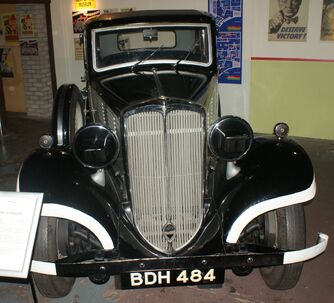 The
Sixteen
was a car made by the Standard Motor Company between 1929 and 1933.
The Sixteen was fitted with a conventional side valve 2054cc six cylinder engine. The engine had a cast-iron block and head, aluminium pistons and duralumin connecting rods. The engine could produce 45bhp.
The engine was connected to a four speed gearbox (with a 'silent' third gear) via a single plate clutch.
The chassis was available in three sizes being 9ft 1in, 9ft 3in and 9ft 10in.
The Sixteen featured a new styled radiator.
The standard bodies were a two-seater and a four-seater but outside coachbuilders offered a lot more variation and customisation features.
In 1932 the tourer cost £225, the saloon cost £235 and Avon bodied cars ranged from £265 to £325.