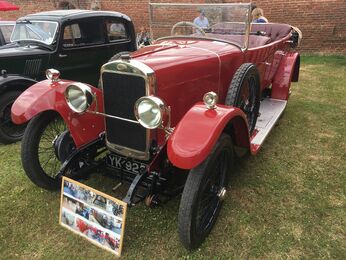 The
20/60
was a car produced by Sunbeam between 1923 and 1926. Around 1500 were built.
The 20/60 was fitted with a 3181cc six cylinder engine of overhead valve design. The engine had a cast iron block and aluminium crankcase. The camshaft was chain driven. Inlet and exhaust manifolds were on the off-side leaving the near-side free for the dynamo, magneto and water pump.
The four speed gearbox was now mounted in unit with the engine. Power was transferred by a single plate clutch. The engine produced 60bhp and the top speed of the car was 65mph (105kmh).
The wheelbase was 10ft 11in and had semi-elliptical leaf springs in the front and cantilever suspension in the front.
The car cost £1025 when new.