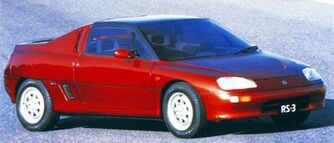 The
Suzuki RS-3
is a concept car unveiled in 1987.
The car is a development of the RS-1 exhibited by Suzuki at 1985 Tokyo Motor Show. The RS-3 featured for the first time on the Tokyo Motor Show in 1987. It was designed by Tatsumi Fukunaga.
It represents what might be called the interim stage in the on-going project to develop a mid engined sports car for volume production. The design of RS-3, while retaining the image of RS-1, has been worked upon to meet Japanese safety regulations and is extremely practical.
Suzuki abandoned the mid engine principe in favour of the Cappuccino. However Mazda developed it further with the AZ series.