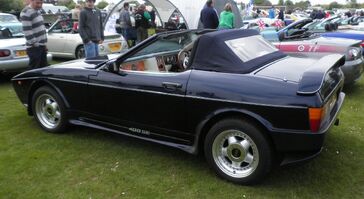 The
TVR Griffith Series 400
is a 2-door coupe sports car produced by Griffith Automobile Corporation between 1964 and 1967. It is the successor to the TVR Griffith 200, featuring improved cooling via a larger radiator with twin electric fans, and a redesigned rear with better visibility and Cortina Mark 1 tail lights.
Although the standard engine was more powerful than the Ford Windsor engine 200 bhp (149 kW; 203 PS) and 225 bhp (168 kW; 228 PS) engines that were fitted in the Series 200, although the 271 bhp (202 kW; 275 PS) "HiPo" engine was available in the Series 200 as an option, the 400 weighed a few more pounds than the 200 and the now-installed Salisbury independent differential gave it a higher gear ratio providing it with a higher top speed.
As the Series 400 was being produced the entire east coast of the US was crippled by a prolonged dock strike early in 1965. This not only caused a disruption in the supply of the series 400 bodies that were being shipped from TVR in Blackpool, UK, it also caused a delay in the shipment of the newer design of the Series 600. Frank Reisner, whose Intermeccanica body works in Turin, Italy, was building the new steel bodied Griffith, was also unable to have the bodies shipped. Jack Griffith attempted to bring his car to the public by having these bodies airlifted across the Atlantic.
With only 59 copies of the 400 and 10 600s off the assembly line at the Griffith factory in Plainview, Long Island, N.Y, USA, the company was dissolved.
Community content is available under
CC-BY-SA
unless otherwise noted.