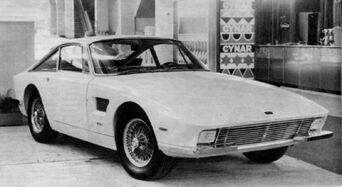 The
Trident
is a car built by the British sports car manufacturer TVR from 1964 to 1966. Only four were made, three of which were built as coupes and one as a convertible.
The Trident was designed by Italian-English designer Trevor Frost and handbuilt by Carrozzeria Fissore in Turin. Trevor Frost persuaded the coachbuilder to build two Tridents using a Grantura/Griffith chassis in 1964. A prototype example was shown at the Geneva Motor Show in 1965, and instantly received appreciation from the public, and was even referred to as the most beautiful car in the world by the Daily Mail that year. After the Trident's public debut, TVR received as much as £150,000 in orders. However, due to financial problems, the rights for the car eventually went to TVR dealer, Bill Last, who established the Trident Motor Company in 1966 and began selling the car as the Trident Clipper.
The Trident was fitted with a 4727cc Ford Cobra V8 engine capable of generating 270 bhp, and also featured a four-speed gearbox. It featured rear lights and switches from Alfa Romeo and front lights from Fiat. The Trident is the only TVR vehicle to date to be built using steel/aluminum bodywork.
Community content is available under
CC-BY-SA
unless otherwise noted.