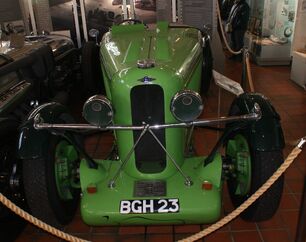 The 105 was a car made by Talbot between 1931 and 1937. 432 were produced during this time.
The engine was a 2276cc unit with an overhead camshaft and pushrods. The engine was connected to a four speed (silent third and later preselector) gearbox via a single plate clutch. The engine output was 100bhp and the competition version produced 135bhp. The top speed of the standard car was 90-95mph (145-153kmh).
The chassis was 9ft 6in long and had semi-elliptical brakes on the front and quarter-elliptical on the rear. The car was originally fitted with Rod operated Perrot brakes on the front wheels but this changed to rod and cable operated brakes later on.
An increase in the engine capacity, still without any change to the exterior dimensions of the engine block, yielded a cylinder displacement of 2,969 cc for the iconic Talbot 105 model. In 1931 four 105s were tuned to provide a reported 119 bhp, at 4,800 rpm. In "Brooklands trim" further tuning and in increased compression ratio of 10:1 gave rise to a claimed 125 bhp.
The Talbot acquired its fame on the racing circuits, featuring prominently at Brooklands on the south-western fringes of London. In 1932 Talbot pulled out of racing, but a major Talbot dealer named Warwick Wright successfully ran a team of three 105s that year, and other teams operated by dealers and enthusiasts continued to race the cars at least till 1938.[
The cost £835 in 1932 and £550 in 1937.
Gallery