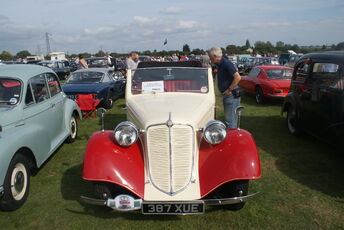 The
Tatra 75
is a middle class automobile introduced in 1933 by Tatra as a replacement for their Type 54 model.
The front-mounted ohv air-cooled boxer motor of only 1688 cc had an advertised output of just 30 hp (22 kW). Attention was paid to weight reduction, with light metal used for the cylinder head castings. In common with other Tatras of this time, the 75 delivered its power to the rear wheels, using a four-speed gear box.
The car was offered with a range of four- and six- seater bodies, the latter employing a lengthened wheelbase. During its nine-year production run, 4,501 Tatra 75s were produced.
After the war, in 1947, the model was belatedly replaced with the radically different Tatra 600 "Tatraplan".