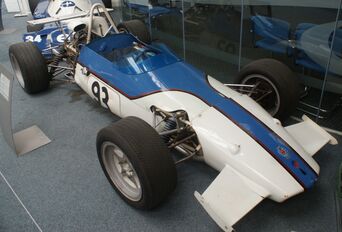 The Techcraft BRM was a racecar built and designed in 1967.
The car was originally powered by a 1500cc BRM V8 engine. This car also employs the Ferguson FF four-wheel drive system.
It was built for sprints and Hillclimbs, this car won the 1968 RAC Hillclimb Championship in the hands of Peter Lawson. During its competitive years the engine was enlarged to 1600cc but was rendered uncompetitive when restrictions on 4WD were imposed.
The car was also raced successfully by Roy Lane of Warwick, who rebuilt the car back to its original condition including the 1500cc engine.
The car is now on display at the Coventry Transport Museum.