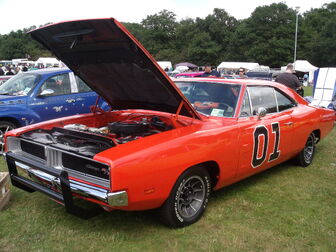 The TV show ran from January 1979 to February 1985.
The car was a 1969 Dodge Charger with the confederate battle flag the roof, 01 on each door and the name 'General Lee' over each door. The TV series is said to have used at least 300 cars throughout its 6 year run, most being damaged during stunts.
The cars famous horn played the 1st 12 notes of the song dixie and is still recognised today.
The Dukes Of Hazzard film based on the original TV series was released in 2005. It was then followed in 2007 by a direct to video prequel called The Dukes Of Hazzard: The Beginning
Gallery
Community content is available under
CC-BY-SA
unless otherwise noted.