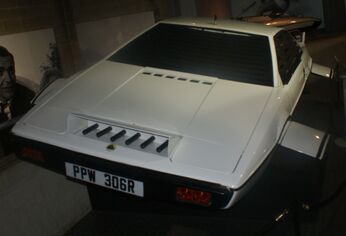 The Spy Who Loved Me
(1977) is a spy film, the tenth film in the James Bond series, and the third to star Roger Moore as the fictional secret agent James Bond. It was directed by Lewis Gilbert and the screenplay was written by Christopher Wood and Richard Maibaum. The film takes its title from Ian Fleming's novel The Spy Who Loved Me, the tenth book in the James Bond series, though it does not contain any elements of the novel's plot. The storyline involves a reclusive megalomaniac named Stromberg who plans to destroy the world and create a new civilisation under the sea. Bond teams up with a Russian agent Anya Amasova to stop Stromberg. The film also stars Curd Jürgens and Barbara Bach.
The film was shot on location in Egypt and Italy, with underwater scenes filmed at the Bahamas, and a whole new soundstage being built at Pinewood Studios for a massive set which depicted the interior of a supertanker. The Spy Who Loved Me was highly acclaimed by critics, being widely considered Roger Moore's best Bond film. The soundtrack, composed by Marvin Hamlisch, also met with success. The film was nominated for three Academy Awards amidst many other nominations and subsequently novelised in 1977 by Christopher Wood as James Bond, The Spy Who Loved Me.
Classic Cars featured in this movie