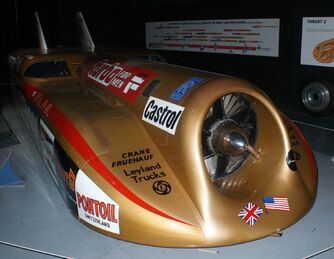 Thrust2
is a British designed and built jet propelled car, which held the world land speed record from 4 October 1983 to 25 September 1997.
The car was designed by John Ackroyd and driven by Richard Noble. The project began with a budget of only £175. On October 4, 1983 the car reached a top speed of 650.88 mph (1,047.49 km/h) and broke the record at 633.468 mph (1,019.468 km/h) (average speed of two runs within one hour). This was achieved at the Black Rock Desert in Nevada, USA. It is powered by a single Rolls-Royce Avon jet engine sourced from an English Electric Lightning, and has a configuration somewhat resembling that of the mid-1960s-era J79 turbojet-powered land speed record cars of Art Arfons, collectively known as the "Green Monster" cars.
KTVN TV Reno, Nevada USA reporter/photographers Michael Hagerty and Gary Martin covered the record setting attempt in the days leading up to the record. The car was unceremoniously stored under a tarp in the only automotive garage at Black Rock desert when it wasn't being worked on by the team. A propane torch was used to burn the line straight down the hard cracked dirt of the desert for the driver to follow. No other cars were allowed to approach the race track except on the perpendicular lest the driver accidentally follow those car tracks as a different path through the measured mile.
In 1997 Thrust2's record was broken by Richard Noble's follow up car, ThrustSSC. When the car was offered for sale at £90,000 in 1991, an extensive fundraising campaign was organised without government assistance to keep the car in Britain. The bid was successful, and today Thrust2 and its successor, ThrustSSC, are displayed at the Coventry Transport Museum in Coventry, England.
Gallery
Community content is available under
CC-BY-SA
unless otherwise noted.