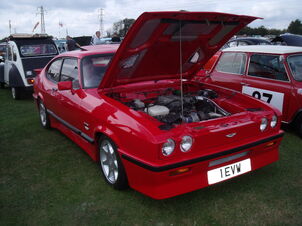 Tickford
is an automobile engineering and testing company with a history of coachbuilding and tuning and is famous for such products as the 140 mph Tickford Turbo Capri.
Early years
Tickford Limited had small coachbuilding origins in the 1820s as the family firm of Salmons and Son based at Tickford Street in Newport Pagnell. With the advent of the internal combustion engine, the company progressed into developing coachbuilt cars as early as 1898 and prospered. In 1925 it announced the Tickford "All Weather" saloon, a convertible with the hood mechanism operated by inserting and turning a handle in the rear quarter-panel. By the late 1930s 450 people were employed producing 30 car bodies a week. Their London showrooms were at 6-9 Upper Saint Martin's Lane WC2. In 1942 family ownership ended and the business was renamed "Tickford Motor Bodies" though still known as "Tickford".
1955-1981 Aston Martin Lagonda
In 1955 it was bought by David Brown, who was already the owner of Aston Martin (since 1947) and Lagonda (since 1948) and an extensive user of Tickford bodies. He soon moved Aston Martin onto the site at Tickford Street where it remained until Ford moved DB7 production to Bloxham and then to Gaydon for the DB9 and DBS. The Tickford name disappeared between the late 1950s and 1981.
1981
In 1981 Aston Martin created an engineering service subsidiary and chose the name 'Aston Martin Tickford', rekindling the specialist service available to all vehicle makers, which had been the Tickford philosophy for the first half of the century. With the changing fortunes of Aston Martin, the company moved into a purpose-built facility in Milton Keynes under the separate ownership of CH Industrials plc and despite carrying out a lot of unseen, "back-room" engineering projects for major manufacturers, gained most publicity from adding engineering and tuning to its coachbuilder roots allowing it to develop special products like the 140 mph, turbocharged Tickford Capri for Ford. After the Capri, Tickford worked with among others, MG to create the Maestro Turbo and Ford to create the road-going Sierra Cosworth RS500 and the homologated version of the RS200. These vehicles were made in a factory set up near Coventry and a railway division was set up in Nuneaton to design interiors for underground and mainline train carriages.
The bonnet of the Jaguar XJS cabriolet was also designed by Tickford. These cars were originally converted by Tickford themselves, but it was so successful that Jaguar set up a convertible production line to cope with demand.