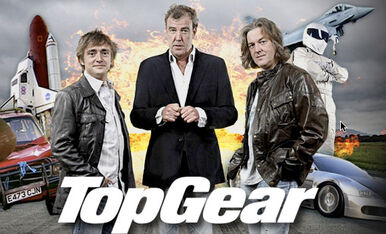 Jeremy Clarkson, who helped the original series reach its peak in the 1990s, along with producer Andy Wilman, successfully pitched a new format for
Top Gear
to the BBC, reversing a previous decision to cancel the show in 2001. The new series was first broadcast in 2002.
Top Gear'
s studio is located at Dunsfold Aerodrome and business park in Waverley, Surrey.
Top Gear
uses a temporary racing circuit which was designed for the show by Lotus and is laid out on parts of Dunsfold's runways and taxiways. A large hangar is used for studio recording with a standing audience.
The new series format incorporates a number of major changes from the old show. The running time was extended to one hour and two new presenters were introduced: Richard Hammond and Jason Dawe, with James May replacing Dawe after the first series. The Stig, an anonymous, helmeted racing driver, was introduced as the test driver. New segments were also added, including "Star in a Reasonably Priced Car", "The Cool Wall", "The News", "Power Laps", and one off features such as races, competitions and the regular destruction of caravans and, more recently, Morris Marinas.
In early 2006, the BBC had planned to move the filming site from Dunsfold to Enstone, Oxfordshire for filming of the eighth series of Top Gear, but the move was rejected by West Oxfordshire council due to noise and pollution concerns. Filming of the series went ahead at Dunsfold in May despite not having a permit to do so, with a revamped studio set, a new car for the "Star in a Reasonably Priced Car" segment, and the inclusion of one of Hammond's dogs, named "Top Gear Dog" (now known as TeeGee), in a few studio and film segments of that series.
On 20 September 2006, Richard Hammond was seriously injured while driving a Vampire turbojet drag racing car at up to 314 miles per hour (505 km/h) for a feature in the show. The BBC indefinitely postponed the broadcast of Best of Top Gear and announced that production of the show would be delayed until Hammond had recovered. Both the BBC and the Health and Safety Executive carried out inquiries into the accident. Filming resumed on 5 October 2006. The ninth series began on 28 January 2007 and included footage of Hammond's crash.The first show of the ninth series attracted higher ratings than the finale of Celebrity Big Brother and the final episode of the series had 8 million viewers – BBC Two's highest ratings for a decade.
Classic Cars featured on Top Gear
Supercar for less than £10,000 Challenge
British Leyland Challenge
Porsche Challenge
Amphibious Vehicles Challenge
Other featured cars
Cars from Top Gear
Community content is available under
CC-BY-SA
unless otherwise noted.