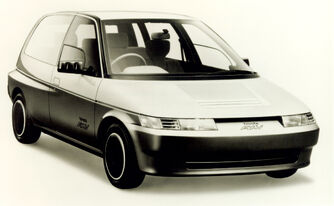 The
AXV
(Advanced eXperimental Vehicle) was a concept vehicle by Toyota that was first shown at the October 1985 Tokyo Motor Show. Its goal was for ultra-low fuel consumption, to be under 650 kg in weight and to have the same interior volume as a small sedan.
The body was aerodynamically shaped, with Cd=0.26, while still seating four people. The bonnet, rear suspension arms and wheel rims were made from SMC (Sheet Moulding Compound), the roof was made from resin between steel sheets and the windows were made from polycarbonate resin.
The engine was a 1.1 litre 3 cylinder diesel. It used turbo-charging, direct injection and electronics to keep high performance levels while maintaining low duel consumption.