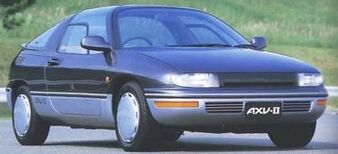 The
AXV-II
was a concept vehicle by Toyota that was first shown at the October 1987 Tokyo Motor Show.
The two doors pivoted up and to the front to allow passengers to exit from the car in places that ordinary swing-out doors can not handle. Gas filled struts kept the door in place when open. The doors covered the roof of the car as well as the sides, with the door glass forming part of the roof.
The hatchback was made entirely from glass that included the rear sides of the vehicle in a similar manner to the early Mazda RX-7.
Mechanical components (engine, gearbox, suspension) were the same as those in the Starlet.
The AXV-II went into production as the Toyota Sera in March 1990.