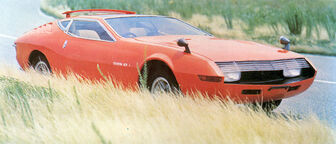 The
EX-1
was shown at the 1969 Tokyo Motor Show.
The car was designed for long distance, high speed driving. It had an electrically controlled roof mounted spoiler for high speed stability. The car was painted orange and it's headlights were concealed behind a rising grill.
The wrap around instrument layout had its switches equidistant from the driver.
The EX-1 provided styling cues for the Celica released in Dec 1970.