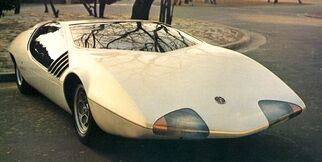 The
EX-III
was a concept car shown at the 1969 Tokyo Motor Show. 
While most Japanese car manufacturers turned to European design houses for their innovative designs, Toyota struck its own course. The 1969 EX III was a case in point. The car was a sleek coupe, which advanced the dream-car ideal as much as the Europeans. Its sleek shape carried over to its ultra-smooth (underbody), making it very aerodynamic.
Like the EX-1, the EX-III was also designed for long distance, high speed driving but it was a bigger car.
The car had a very low with a pointed front (no bumper), a long bonnet, sharply sloped sides and a tapered rear. Large exhaust outlets hinted at a gas turbine engine but no details were given.