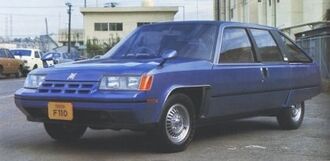 The
Toyota F110
was an unusual concept car unveiled at the 1977 Tokyo Motor Show.
The idea was to maximize cabin space given dimensions defined by Japanese vehicle tax codes. The F110 is asymmetrical, with one long sliding door on the driver's side, and a conventional door plus sliding rear door on the passenger side (with no B-pillar).
The seats are upholstered with a thick, tan shag. It never made it into production, though if you squint you can see a tiny hint of the 1983 Camry liftback.