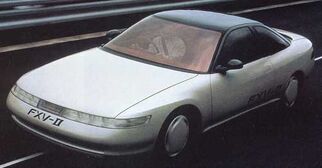 The
FXV-II
(Future eXperimental Vehicle II) was a concept vehicle by Toyota that was first shown at the October 1987 Tokyo Motor Show.
It had an all alloy, quad cam, 32 valve, EFI, 3.8 litre V8 engine. It is not clear if the engine was a development of the V series engines used in the Century or a prototype of the 1UZ-FE which was later used in the Lexus LS400 (some 1UZ-FE prototypes from about 1987 were the same size). The radiator cooling fans were hydraulically driven under computer control.
At the time, the drive train was Toyota's only 4WD system using a V8. The front/rear split was normally 30/70 but could change up to 50/50. A 4 speed electronically controlled automatic gearbox was used. Electronic Skid Control and Traction Control were included.
The Pegasus (Precision Engineered Geometrically Advanced SUSpension) was a prototype for the new Toyota TEMS suspension used on later Cressidas, Soarers and Supras.
The FXV-II may have included 4 wheel steering.
The interior included GPS navigation and computerised CRT displays