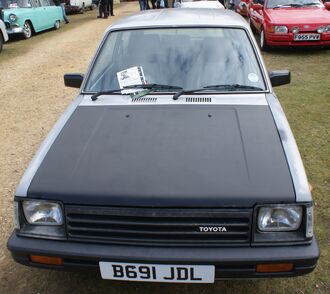 The
Toyota Starlet
is a small automobile manufactured by Toyota from 1973 to 1999, replacing the Publica, but retaining the Publica's "P" code and generation numbering. The Starlet was marketed as the Publica in some Toyota export markets.
40 Series
Initially launched in April 1973 as the Publica Starlet 40 series, the Starlet was offered with 1000 and 1200 cc engines. Generally the car looked like a shortened Corolla. Variants available were 2-door Sedan, and 3-door wagon. The 4-door Sedan came in October 1973. Grades are Standard, Deluxe, Hi-Deluxe, ST, and SR.
60 Series
The 60 series, introduced in 1978 was better known, being the first to be extensively sold outside Japan. It was offered with 993 (KP60 2K), 1,166 (KP62 3K) and 1,290 cc (KP61 4K) engines. Three- and five-door hatchbacks were offered in export markets, although a distinctive 5-door wagon variant was sold in Japan, Hong Kong and Germany. Trim levels were Standard, De Luxe (also known as DX in some markets), GL, XL, S, and SE.
In 1980 the Starlet was facelifted to include square headlights and a second facelift followed in 1983 to incorporate a slant nose front end, and lower hatch opening.
The KP61 was the only Starlet ever sold in the USA from 1981 to 1984, and the Toyota Corolla FX replaced it in 1985. The 1981–1982 models came with standard 5-speed manual transmission and tachometer. It is an equivalent to other markets' S model. The 1983–1984 models were additionally offered with Electronic Fuel Injection (EFI) with the 4K engine, but with 4-speed manual transmission, and similar to other markets' XLi model.
70 Series
The 70 series of October 1984 saw the Starlet switch to front wheel drive. 3-door and 5-door hatchbacks were offered. The 12 valve 1E and 2E engines replaced the old K-series engines. The extensive Japanese line up consisted of Standard, DX, Soleil, XL, XL Lisse, SE, Si, Si Limited, Ri, Turbo R, and Turbo S. The engine fitted in turbo models was the 2E-TELU. The Ri and Turbo R are the light weight models designed for motorsports. For export markets the Starlet 70 series were offered as 1.0 Standard, 1.0 DX, 1.0 XL, 1.0 XL Lisse, 1.3 DX, 1.3 XL, 1.3 S, and 1.3 SE. The export version Si Limited was basically an XL or 1.3 S with front and rear spoilers, sporty red and black interior, Multi-point fuel injection and special exterior colour 2-tone black-silver, or white.
The first Starlet assembled outside Japan was the 1985 1.0 XL built in Indonesia. A year later, the 1.3 liter model was also manufactured. A minor change for Japanese models was given in 1987 with new nose, tail lights, bigger bumpers, and revised interior.
Gallery
Community content is available under
CC-BY-SA
unless otherwise noted.