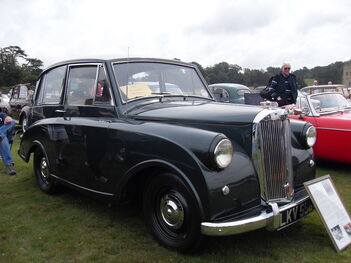 The Triumph Mayflower is a small car which was produced by Britain's Triumph Motor Company from 1949 until 1953.
It was the first small car to be built by Triumph under new owners, the Standard Motor Company. It used a version of the pre-war Standard 10 side-valve engine updated by having an aluminium cylinder head and single Solex carburettor. The engine developed 38 bhp (28 kW) at 4200 rpm. The 3-speed gearbox, with column shift, came from the Standard Vanguard and had synchromesh on all the forward ratios. There was independent suspension at the front using coil springs but a solid back axle and half-elliptic leaf springs, also based on the one used on the Vanguard, was at the rear. The front-suspension design went on to be used on the Triumph TR2. Lockheed hydraulic brakes were fitted.
A car tested by the British magazine The Motor in 1950 had a top speed of 62.9 mph (101.2 km/h) and could accelerate from 0–50 mph (80 km/h) in 26.6 seconds. A fuel consumption of 28.3 miles per imperial gallon (9.98 L/100 km; 23.6 mpg-US) was recorded. The test car cost £505 including taxes. In the same year the similarly sized but less well equipped and more aggressively priced Morris Minor was advertised at £382.
The Mayflower had traditional "razor edge" styling similar to its larger brother, the Triumph Renown and apeing the looks of the upmarket Bentley and Rolls-Royce cars. It was hoped this would be especially appealing to the American market. The car was of unitary construction with steel body panels and was built by Fisher and Ludlow at Castle Bromwich, Birmingham to a design by Leslie Moore, chief body designer of Mulliners of Birmingham with input from Triumph's Walter Belgrove.
As well as the saloons, ten drophead coupés were built in 1950.
The styling, created at the behest of Standard's Managing Director Sir John Black, proved controversial and tends to polarise opinion. Although it has many admirers, others share the opinion of Top Gear presenter James May, who called it the ugliest car of all time in one of his columns.
The Mayflower was an attempt to create a small car with an upmarket image, and failed to meet its sales targets. Standard-Triumph's next small car, the Standard Eight, was launched with a very basic specification and aimed at a different type of buyer. From the ending of Mayflower production in 1953 there was no small Triumph saloon available in the UK until the launch of the Triumph Herald in 1959, although in some overseas markets derivatives of the Standard 8 were sold as Triumphs.
Gallery
Community content is available under
CC-BY-SA
unless otherwise noted.