The
Triumph TR2
is a sports car which was produced by the Standard Motor Company in the United Kingdom between 1953 and 1955, during which time 8,636 cars were produced.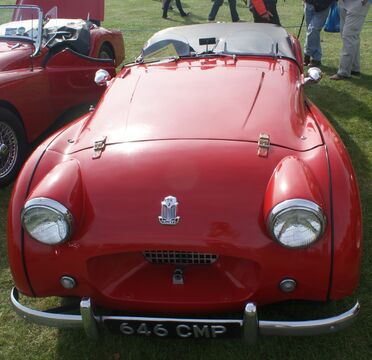 The car used a twin SU carburetor version of the 121 cid (1991 cc) four-cylinder Standard Vanguard engine tuned to increase its output to 90 bhp (67 kW). The body was mounted on a substantial separate chassis with coil-sprung independent suspension at the front and a leaf spring live axle at the rear. Either wire or disc wheels could be supplied. The standard transmission was a four-speed manual unit but overdrive was available on top gear as an option. Lockheed drum brakes were fitted all round.
As of Q1 2011 there were approximately 377 licensed and 52 SORN TR2's registered with the DVLA.
History
The TR2 was designed to challenge MG in the sports car export market to North America. It was also built because Sir John Black, the boss of the Standard Motor Company, made a bid for the Morgan Motor Company and failed. So he would have to build his own sports car that could compete with MG. Triumph already made the Triumph Roadster, but it was out dated and under-powered. Sir John Black wanted an affordable sports car, so he initiated a prototype to be built. The chassis was a shortened version of the Standard 8s; the engine was the Standard Vanguard 2-litre; and a two-seater body was created around this. It was named the TS20. When it was revealed at the 1952 London Motor Show, the look of the car wasn't liked. But the project was given the go-ahead by Black anyway. A year later the TR2 was revealed. It had better looks; a simple ladder-type chassis; a longer body; and a bigger boot. It was loved by American buyers, and became the best earner for Triumph. In 1955 the TR3 came out with more power; a re-designed grille; and a GT package which gave one a factory hard-top.
Gallery
Community content is available under
CC-BY-SA
unless otherwise noted.