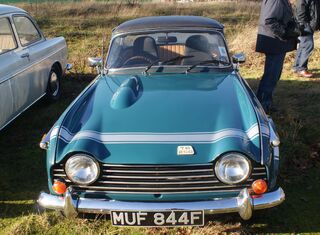 The
Triumph TR250
was built between 1967 and 1968 for 15 months by the Triumph Motor Company in the United Kingdom, during which time approximately 8,480 cars were built, all of which were for the American market. Many can now be found outside the United States, primarily in Europe. Approximately 600 remain worldwide today.
The TR250 was identical to the TR5 except for the fuel delivery system. The TR250 did not have the TR5's fuel injection system. Instead, the TR250 was fitted with twin Zenith-Stromberg carburettors. The TR250's engine delivered 111 bhp (81 kW), 39 bhp less than the TR5.
The reasons for this difference came down to price pressures of the American market, and tighter emissions regulations.
In 1968, the TR250 sold in North America for approximately $3,395, with wire wheels being another $118, overdrive $175 and air conditioning another $395.
Coachwork
Like the TR5, the TR250 was also available with the "Surrey Top" hard top system; a weather protection system with rigid rear section including the rear window and removable fabric section over the driver and passenger's heads that preceded by 5 years the Porsche 911/912 Targa, which has since become a generic name Targa for this style of top.
Specification
Engine: 2498 cc, 6 cylinder, 74.7 mm (2.9 in) bore, 95 mm (3.7 in) stroke, 8.5:1 compression ratio, 111 bhp (83 kW; 113 PS) @ 4500 rpm Wheelbase: 2,240 mm (7 ft 4 in)
Length: 3,902 mm (12 ft 9.625 in)
Width: 1,470 mm (4 ft 10 in)
Height: 1,170 mm (3 ft 10 in)
Turning circle: 10.1 m (33 ft)
Capacities:
Fuel tank: 61 L (13.5 imp gal)
Engine sump: 5.4 L (9.64 imp pt)
Gearbox: 1.13 L (2 imp pt)
Performance:
0 to 60 mph (97 km/h): 10.6 seconds
0 to 100 mph (160 km/h): 39 seconds
Fuel consumption: 23.5 miles per US gallon (10.0 L/100 km; 28.2 mpg-imp)
Community content is available under
CC-BY-SA
unless otherwise noted.