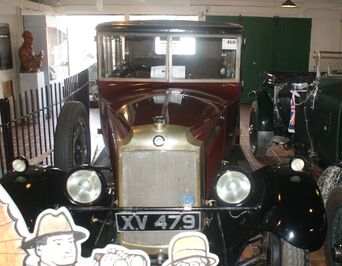 The R-Type is a car made by Vauxhall between 1927 and 1929. In this time 4,228 R-Types were made.
The cars had a 3 litre four-cylinger engine with over-head valves. The cars were fitted with a four-speed gearbox and a dry single-plate clutch. The R Type had a central gearchange and coil ignition (which were obvious American influences) but otherwise the car was British in conception. The top speed of the car was 65mph (105kmh).
The chassis boasted coupled brakes that worked better than anything offered by Vauxhall prior to the General Motors acquisition. Mechanical brakes were fitted on all four wheels. The turning circle was 44ft.
The cars were manufactured in Luton, England for export to Australia. It was a popular overseas model and many were dispatched to Empire markets.
Gallery
Community content is available under
CC-BY-SA
unless otherwise noted.