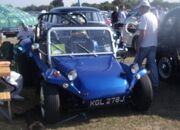 The Volkswagen Buggy is a kit car based on the Volkswagen Beetle.
It has a fibreglass body and uses the rear mounted Volkswagen engine. The engine is air cooled, simplifying engine modification, and the absence of a radiator eliminates a source of failure. The low price; robustness of the front suspension; and the sizable quantity of spare parts from other VW Beetles are a further advantage.
Chevrolet Corvair engines are also a popular way to upgrade to 6 cylinders, and sometimes vehicles are fitted with turbochargers to provide as much as 180 horsepower (130 kW). For example, one such conversion was a 1970 Manx 2 on a 1961 VW chassis. It was fitted with a 180 hp (130 kW) turbocharged Corvair engine, with reverse rotation, mated to a VW transaxle.
Gallery