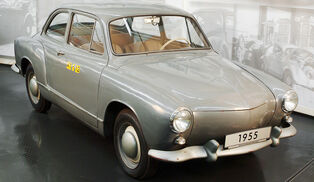 The
Volkswagen EA 47-12
was a concept car built in 1955.
The EA 47-12 is the twelfth of 15 prototypes produced in the period between mid-1953 and the end of 1956. 'EA' stands for Entwicklungsauftrag which means 'development assignment' and it was an initial reaction to the demands for a modern successor to the Beetle. The car was fitted with a 1192cc four-cylinder boxer, air-cooled engine which had a power output of 30hp (22kW) which was able to propel the car to 80km/h.
The Turin-based automobile design company Ghia conceived and produced a total of 15 bodies, the styling of which was heavily reminiscent of the Karmann Ghia. The prototype was also at the cutting edge of its time from a technical perspective, with a transverse link on the front axle, torsion bar suspension on the rear wheels and fully synchronised four-speed gearbox.
Community content is available under
CC-BY-SA
unless otherwise noted.