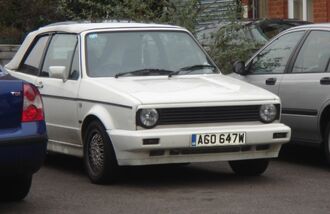 The
Volkswagen Golf
is a small family car manufactured by Volkswagen since 1974 and marketed worldwide across six generations, in various body configurations and under various nameplates – as the
Volkswagen Rabbit
in the United States and Canada
(Mk1 and Mk5)
, and as the
Volkswagen Caribe
in Mexico
(Mk1).
The front-wheel drive Golf was Volkswagen's first successful replacement for the air-cooled Volkswagen Beetle. Historically, the Golf is Volkswagen's best-selling model and the world's third best-selling model, with more than 25 million built by 2007.
Most production of the Golf was initially in the 3-door hatchback style. Other variants include a 5-door hatchback, estate/wagon (Variant, from 1993), convertible (Cabriolet and Cabrio, 1979–2002), and a Golf-derived notchback saloon/sedan, variously called Volkswagen Jetta, Volkswagen Vento or Volkswagen Bora (from 1979). The cars have filled many market segments, from basic personal cars, to high-performance hot hatches.
Every generation of Golf has been a runner-up in the European Car of the Year awards, but only one has been a winner, the Golf Mk3 in 1992.
Golf Mk1 1974–1983
In May 1974, Volkswagen presented the first-generation Golf as a modern front-wheel-drive, long-range replacement for the Volkswagen Beetle. Later Golf variations included the Golf GTI "hot hatch" (introduced in June 1976), a diesel-powered version (from September 1976), the Jetta notchback saloon version (from October 1979), the Golf Cabriolet (from January 1980) and a Golf-based pickup, the Volkswagen Caddy.
The Golf Mk1 was sold as the Volkswagen Rabbit in the United States and Canada and as the Volkswagen Caribe in Mexico.
A facelifted version of the Golf Mk1 was produced in South Africa as the Citi Golf from 1984 to 2009
Golf Mk2 1983–1992
September 1983 saw the introduction of the second-generation Mk2 that slightly grew in terms of wheelbase, exterior and interior dimensions while retaining, in a more rounded form, the Mk1's overall look. In 1985, the first Golfs with four-wheel-drive (Golf syncro) went on sale with the same Syncro four-wheel-drive system being employed on the supercharged G60 models, exclusively released on the continent in 1989 with 160 bhp (120 kW) and ABS braking.
A Mk2-based second generation Jetta was unveiled in January 1984. There was no Mk2-based Cabriolet model; instead, the Mk1 Cabriolet was continued over the Mk2's entire production run.
Gallery
Community content is available under
CC-BY-SA
unless otherwise noted.