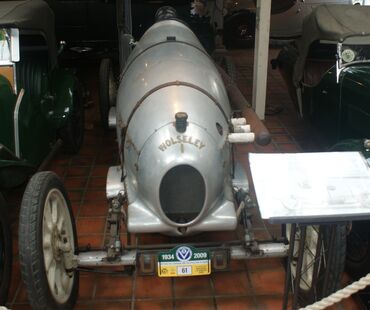 The 1921 Wolseley Moth has a 1261cc S4 OHC engine.
The Wolseley 10 Moth first raced at Brooklands in 1921 to advertise the standard Wolseley 10. Driven by Captain Alistair Miller who named the car Moth after a troupe of dance girls he was friendly with.
Its first race ended in a crash, but during the 1921/22 season the Moth gained 54 Brooklands certificates, 44 for class records. In 1922 Captain Miller won the Double Twelve, the first British 24 hour record.
Wolseley was a pioneer of British racing first competing in motor racing between 1902 to 1905 and along with Napier were the only British representatives in Continental racing.
Reentering racing in 1921 with the Moth which continued to take podium places as late as 1930. Including a 1st and 2nd in the 1923 BARC Easter meeting with Wolf Barnato first in Moth 2 and Captain Miller 2nd in Moth 1.
Retired their whereabouts were lost in 1935 until the remains of Moth 1 was discovered by John End in Cornwall in 1970.
Gallery
Community content is available under
CC-BY-SA
unless otherwise noted.