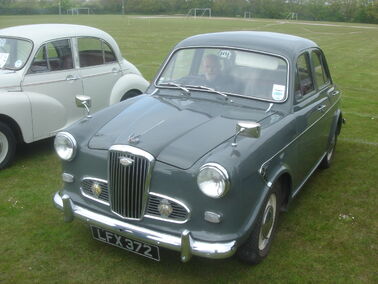 The Wolseley 1500 was a motor vehicle based on the Morris Minor floorpan, suspension and steering but fitted with the larger 1489 cc B-Series engine and MG Magnette gearbox.
The Wolseley was released in April of 1957.
The Series II model came out in May 1960. The most notable external difference was the hidden boot and bonnet hinges. Interior storage was improved with the fitting of a full width parcel shelf directly beneath the facia.
The Wolseley also had a Series III launched in October 1961 which featured a revised grille and rear lights.
In October 1962 the car received the more robust crank, bearing and other details of the larger 1,622 cc unit now being fitted in the Austin Cambridge and its "Farina" styled clones. Unlike the Farina models, however, the Wolseley 1500 retained the 1,489 cc engine size with which they had been launched back in 1957.
Production ended in 1965 with 103,394 Wolseleys made.
Gallery