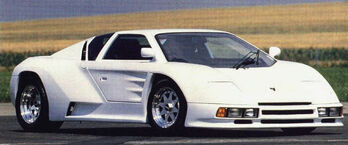 The
Zender 3
was a prototype vehicle that was built in 1988.
It was fitted with a 5547cc V8 DOHC engine with 2 valves per cylinder. It was able to deliver 300bhp at 5000 rpm. The car had a top speed of 282 km/h (175 mph) and accelerated from 0 to 60mph (~97kmh) in 6.00s.
It is a mid-engine RWD car. It weighed 1350 kg and came with a 5-Speed Manual transition.
The chassis was 2510mm long with the body being 4080mm long, 1990mm wide and 1120 high. The car has two seats and two doors.